Prof.
Justin Levitt's
Doug Spencer's
Guide to Drawing the Electoral Lines
Why should we care?
The location of district lines decide which voters vote for which representative.  Changing the lines will change the relevant voters, and can change the identity, allegiance, and political priorities of a district's representative, and of the legislative delegation as a whole.
Click on the wheel to see how.  

American attempts to tailor district lines for political gain stretch back to the country's very origin. Patrick Henry, who opposed the new Constitution, tried to draw district lines to deny a seat in the first Congress to James Madison, the Constitution's primary author. Henry ensured that Madison's district was drawn to include counties politically opposed to Madison. The attempt failed, and Madison was elected — but the American gerrymander had begun.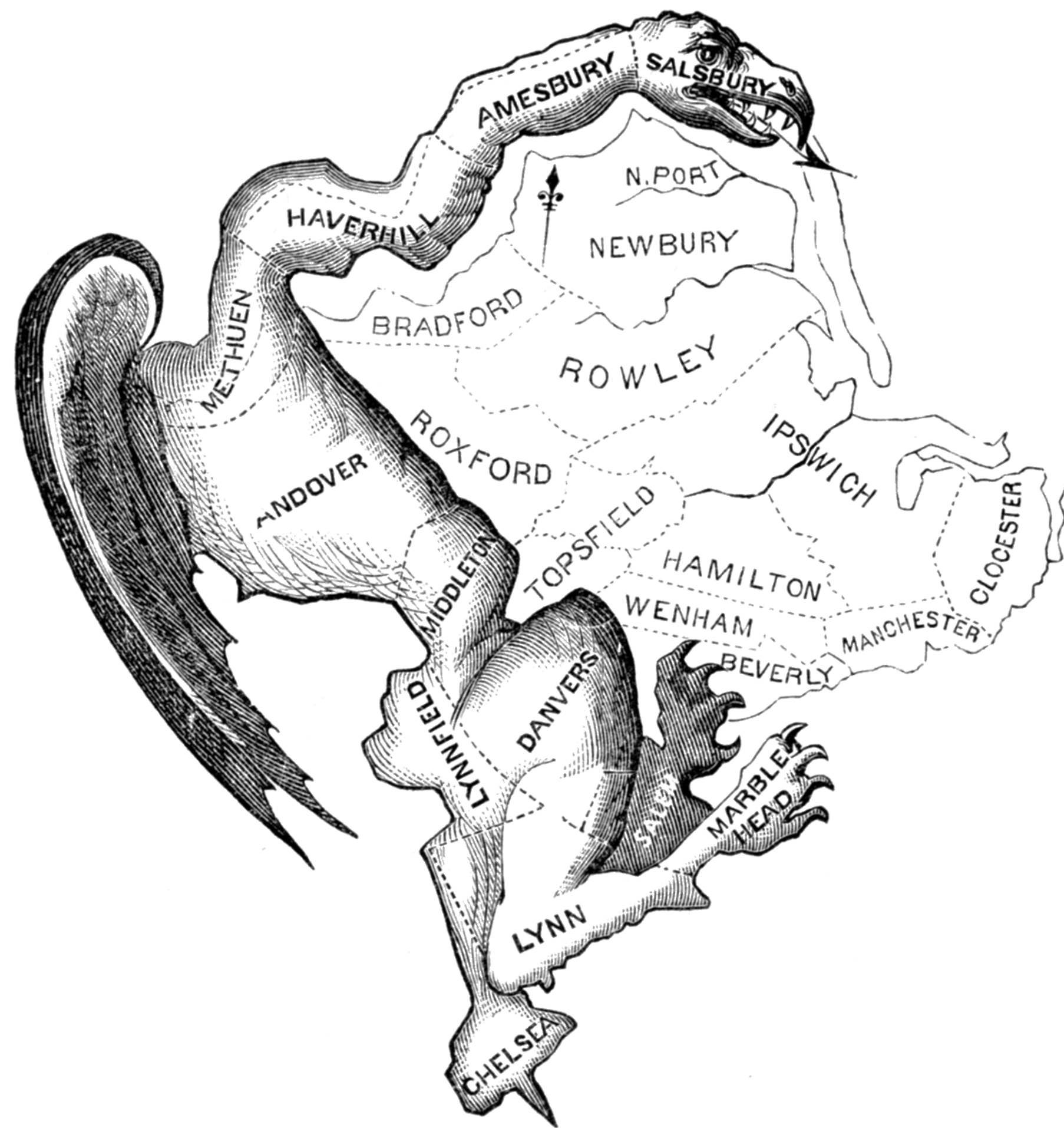 Ironically, the man who inspired the term "gerrymander" served under Madison, the practice's first American target. Just a few months before Elbridge Gerry became Madison's vice president, as the Democratic-Republican governor of Massachusetts, Gerry signed a redistricting plan that was thought to ensure his party's domination of the Massachusetts state senate. An editorial artist added wings, claws, and the head of a particularly fierce-looking salamander creature to the outline of one particularly notable district grouping towns in the northeast of the state; the beast was dubbed the "Gerry-mander" in the press, and the practice of changing the district lines to affect political power has kept the name ever since.
It's worth noting that the shape of the "Gerry-mander" isn't that odd in the abstract.  The district is just a collection of the towns ringing Essex County.  The reason the editorial cartoonist gave it wings, claws, and a head isn't really about how it looked, but what it was doing: trying to secure partisan victory in a way that opponents thought illegitimate.  How a district looks is rarely a guide to whether it's good or bad: there are "pretty" districts that give awful representation, and "ugly" districts that give wonderful representation.
In most states, the gerrymander is alive and well, doing bad things. Politicians still carve territory into districts for political gain, usually along partisan lines. This can lead to some serious consequences for the health of the democracy: